The mosque accused of fomenting anti-Ahmadi persecution in Scotland hosted annual conferences for a group which has advocated the execution of members of the Muslim sect. The institution is also linked with posters that have accused Ahmadi of "abusing" Islam. One such flier was removed by police from a Glasgow shop on 12 April.
An IBTimes UK investigation into the mosque has found long-standing links with the Khatme Nubuwwat (Finality of the Prophet) movement, which is behind violent anti-Ahmadi persecution in Pakistan, and whose London branch is currently under investigation by the Metropolitan Police for distributing anti-Ahmadi hate speech.
Our investigation also reveals:
• Leaflets advertising annual conferences at the mosque by the Khatme Nubuwwat group can still be easily found on Facebook. Likewise anti-Ahmadi recordings of sermons by the group have been posted on YouTube.
• In 2014 a hard-line cleric who had called for the life of liberal Pakistani politician Salmaan Taseer to be "terminated" is advertised as a speaker at the conference.
• Posters with Glasgow Central Mosque's telephone number branding Ahmadi beliefs a "deception" were removed by police from a shop in the south of the city.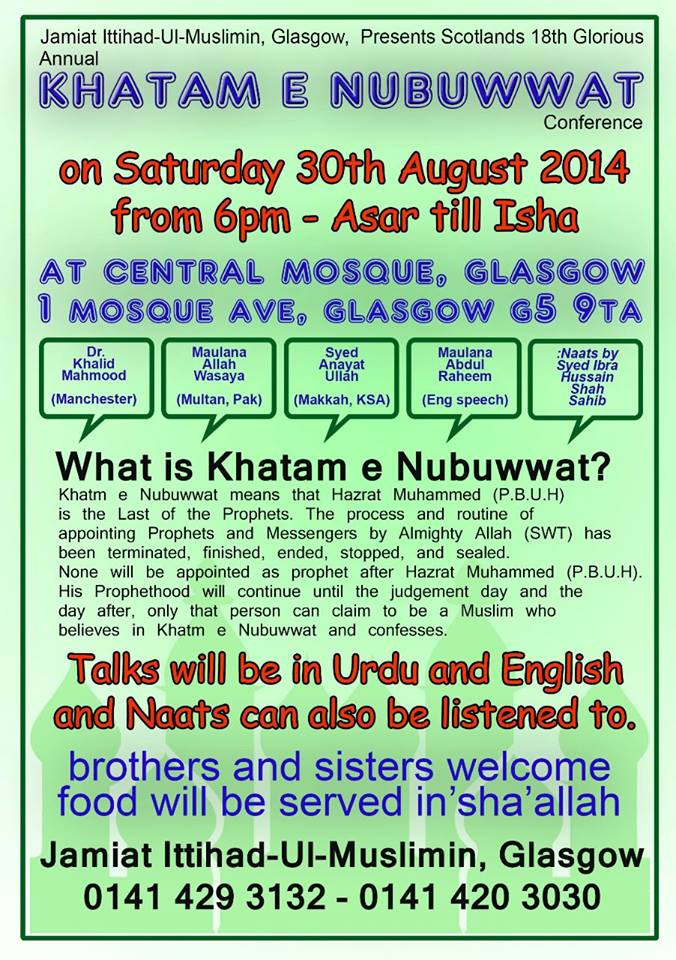 On 24 March, Ahmadi shopkeeper Asad Shah was murdered in a religiously motivated attack in Glasgow. Tanveer Ahmed, 32, from Bradford, said he killed Shah for "disrespecting" Islam.
Glasgow Central Mosque's caretaker president Dr Mohammed Shafi Kausar has refused to acknowledge the existence of the Khatme Nubuwwat group and strenuously denied the mosque's connection with violent extremism. "Anybody who calls for anyone's execution and anyone's harm is not with us. We don't condone that. We would not allow anyone to say these things," said Kausar.
Glasgow Central Mosque had not responded to requests for comment on the anti-Ahmadi leaflets or hosting hard-line cleric Allah Wasaya at the time of publication.
Fiyaz Mughal, director of anti-Islamophobia group Tell Mama, said those who denied the existence of groups such as Khatme Nubuwwat were attempting to hide "deep rooted issues".
Some Muslims refuse to accept Ahmadi as members of the faith, arguing that they refuse to accept the status of Mohammed as the final Prophet, and worship the sect's founder Mirza Ghulam Ahmad (1835-1908) as the Mahdi of Muslim saviour. Ahmadis argue that their founder returned Islam to the true essence of Mohammed's teachings.
A Facebook flier for a 2014 Khatme Nubuwwat event at the mosque advertises Pakistani-based hard-line cleric Maulana Allah Wasaya as a speaker. Wasaya has described Ahmadi as "Zindeeq", or those who claim to be Muslims but hold criminally dissident beliefs.
At a Pakistan conference in 2009, Wasaya said that those in the country such as Taseer, who advocated loosening anti-blasphemy laws, would be "eliminated". Taseer was murdered by his bodyguard Mumtaz Qadri in 2011.
In the wake of Shah's murder the BBC reported that Glasgow Central Mosque preacher Maulana Habib Ur Rehman had praised Qadri using the messaging platform WhatsApp. In a statement to the BBC he said the comments had been taken out of context.
Wasaya has also spread anti-Ahmadi conspiracy theories, and in a 2010 conference in London accused Ahmadi of working with "intelligence agencies" and of being responsible for attacks on their own mosques in Pakistan that year, in which 94 people were killed.
Glasgow Central Mosque has been linked to posters and leaflets in the city calling for Muslims to reject the Ahmadi. A Police Scotland spokeswoman confirmed to IBTimes UK that on 12 April officers removed anti-Ahmadi posters in a shop in the south side of Glasgow.
"Whilst no criminality was established, advice was provided that the content of the leaflet could cause offence to a section of our community. The leaflet was removed with the shopkeeper's consent," said spokeswoman Angela McMenamay.
The poster accuses Ahmadi of "abusing" the word Islam, brands Ahmadi beliefs a "deception", and claims the Ahmadiyya place of worship in the city "is not a Masjid [mosque]". The bottom of the leaflet lists the number for Glasgow Central Mosque, and several other mosques and Islamic institutions in the city. Other leaflets allegedly distributed by mosques in the city in Urdu call for Ahmadi businesses to be boycotted. Their authenticity could not be verified by IBTimes UK.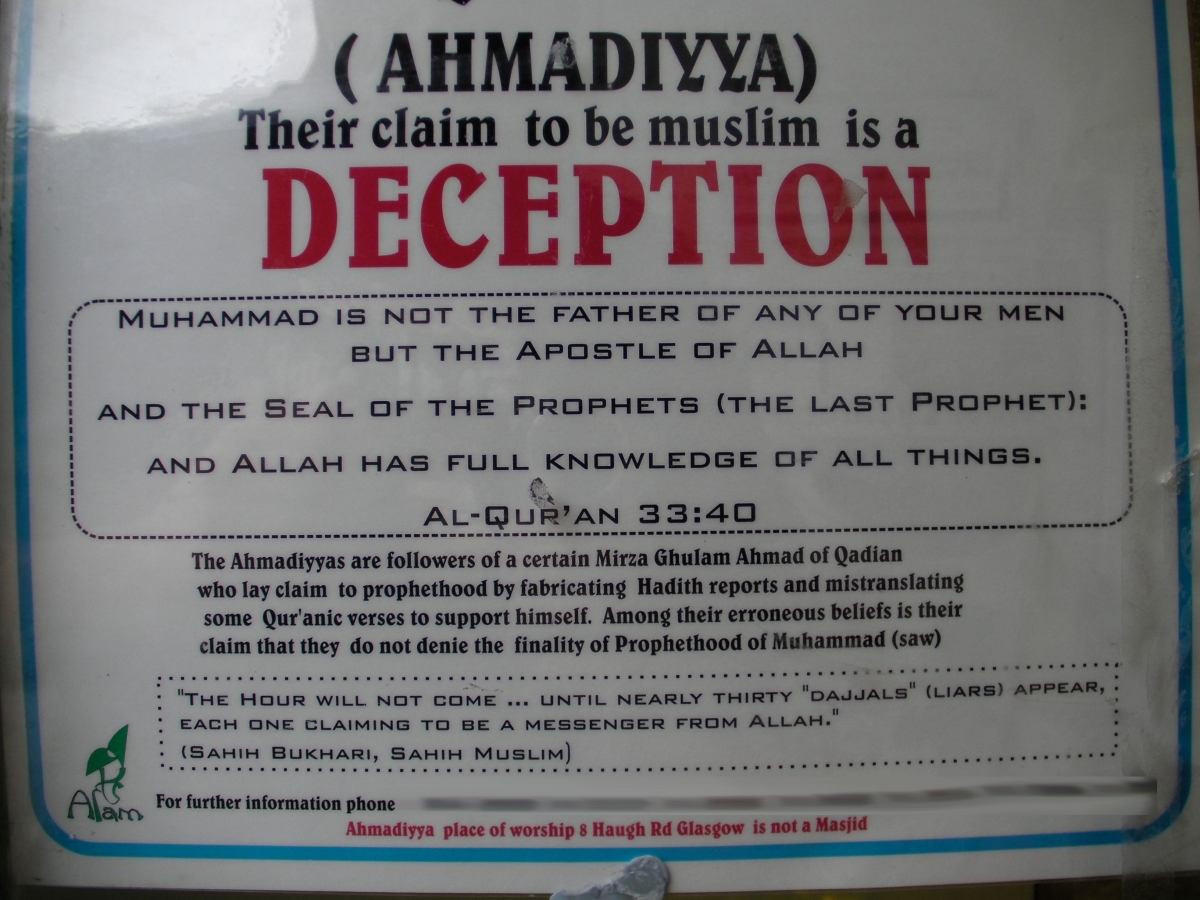 Evidence indicates long-standing links between Glasgow Central Mosque and Khatme Nubuwwat, with the 2014 conference poster proclaiming the event as the 18th held in the city. In a recording at the mosque from the group's 2008 annual conference, obtained by IBTimes UK, a preacher identified as Maulana Yaqub Babar, speaking in Urdu, warns the Ahmadi "Muslims all over the world will not let you enjoy this fake Caliphate forever" and tells listeners "it is our collective responsibility to monitor their activities".
In a separate recording of the 2013 annual conference posted on YouTube, a preacher identified as Maulana Abdur Raheem boasts Khatme Nubuwwat has held annual events in the UK since 1985, the year after harsh new anti-Ahmadi laws were passed in Pakistan, forcing hundreds of members of the religion to flee to the UK. Attempts by IBTimes UK to trace Abdul Raheem for comment were not successful.
Speaking to IBTimes UK, Dr Kausar refused to even acknowledge the existence of the Khatme Nubuwwat group. "This is not a group or organisation. Khatme Nubuwwat means the finality of the prophet Mohammed. This is part of the belief of Muslims. You can't be a Muslim without believing in that. I don't know why these people are mixing up everything," said Kauser.
Tell Mama's Fiyaz Mughal accused the mosque of trying to evade the issue. "The Khatme Nubawwat group exists and is active in areas of the UK. The sad reality is that any group which divides communities is one that is not part of the solution of how we tackle issues in our country. Anyone attempting to downplay the influence that such groups have, is trying to hide deep rooted issues under the carpet."
Allegations about the group are not confined to Scotland. The Stockwell Green branch of the group were accused in March of distributing leaflets calling for Ahmadi to be killed. The group's Forest Gate branch denied any connection between them.
In recent months, links between another extremist group and senior figures at the Glasgow Central Mosque have been alleged. In March, Scottish anti-terror police launched an investigation into Glasgow Central Mosque after it was alleged that Sabir Ali, head of religious events, had held a senior position in the Sipah-e-Sahaba group, which is responsible for attacks in Pakistan against minorities including the Ahmadiyya and is banned in the UK. Reformist members of the mosque's central committee claim they have been threatened by hard-liners.
On 18 April, Glasgow Central Mosque did not send a representative to an anti-extremism event organised in Glasgow's George Square by the city's Ahmadi community, which was attended by representatives from the Sikh, Jewish and Christian communities, as well as local police, politicians and Glasgow's Lord Provost. On 20 April Prime Minister David Cameron expressed his support for the campaign.
Dr Kausar rejected claims from organisers of the anti-extremism event that the mosque had promised to send a representative. "Why should we go? I was asked and said 'I am sorry I had an appointment I can't come,' and an Imam was away. I wrote back saying 'I'm sorry I support you and I wish you success.'
"If I don't come what difference does it make? Why should it be taken as that important? What are they going to achieve by these sorts of measures? We have an open policy of condemning any extremism."
Abdul Abid, the leader of the Ahmadiyya Community in Scotland, rejected Dr Kausar's claims. "I think that he is trying to confuse the media. We know that they [Khatme Nubuwwat] were holding the conference every year. We are talking about extreme thinking and extreme views. If these extreme thinking and extreme views remain with them things will not improve. This is the problem."
Abid criticised the mosque for not sending a representative to the anti-extremism event: "Whether you are Christian or Muslim or Sikh we are standing against extremism, and they were not able to do that. This is ground where difference between different sects doesn't come into it."
http://www.ibtimes.co.uk/glasgow-central-mosque-accused-hiding-links-anti-ahmadi-hate-speech-group-1555662