One of the many religious minorities whose plight is documented in the latest U.S. State Department report on religious freedom is the Ahmadiyya community, or the Ahmadis.
The Ahmadis consider themselves Muslim, but that is a view rejected by mainstream Islamic sects. And in Pakistan, as RFE/RL correspondents Daud Khattak and Frud Bezhan report, Ahmadis have come under assault not only from extremist religious groups but also from the government.
Pakistan's minority Ahmadi sect has become the target of rising sectarian violence, with its burial grounds, mosques, and homes coming under assault.
Authorities have done little to stem the attacks, with the government still refusing to grant the community equal status.
Those were the findings documented by the U.S. State Department's 2012 International Religious Freedom Report, which was released on May 20. The report said Pakistan's Ahmadis, who number between 2-4 million, are being harassed, detained, and banned from practicing their faith.
Under Pakistani law, the Ahmadis cannot refer to themselves as Muslims or engage in any Muslim practices, including using Islamic greetings, calling their places of worship mosques, or participating in the hajj, or holy pilgrimage. Ahmadis risk imprisonment for up to three years and a fine if they break those laws, according to the report.
According to Ameer Mehmood, who is a spokesman for the Ahmadiyya community, the Pakistani government's "anti-Ahmadi laws" have helped foster a climate of violence with authorities doing little to stop attacks against Ahmadis.
Ahmadi spokesman Ameer MehmoodAhmadi spokesman Ameer Mehmood
"There is no safety for Ahmadis in Pakistan," he says. "It is because the laws against Ahmadis are not only providing a base for extremist elements of society, but also for the government of Pakistan to file cases against Ahmadis on the basis of those laws and to harass them."
There are roughly 10 million Ahmadis around the world. The group's members are followers of Mirza Ghulam Ahmad, the man who founded the movement in British India in 1889 and who Ahmadis believe was a messiah and prophet. For the mainstream Islamic sects, that contradicts a cornerstone of their faith — that Muhammad was the final prophet.
Systematic Persecution
Those beliefs have seen the Ahmadis come under pressure in a number of countries, including Saudi Arabia and Indonesia, the State Department report says. In Pakistan, members of the community have been systematically persecuted by both mainstream Muslim sects and the government.
In the 1970s, Prime Minister Zulfikar Ali Bhutto passed an amendment to the Pakistani Constitution declaring that anyone who does not believe Muhammad was the last prophet would be deemed a non-Muslim. Under the rule of military dictator Zia ul-Haq in the 1980s, practicing the Ahmadi faith was declared a "blasphemous" criminal offense.
Mehmood says that Ahmadis are denied fundamental human rights such as access to education and the right to vote. He claims Pakistani laws put pressure on Ahmadis to renounce their beliefs to gain the same rights as other Pakistanis.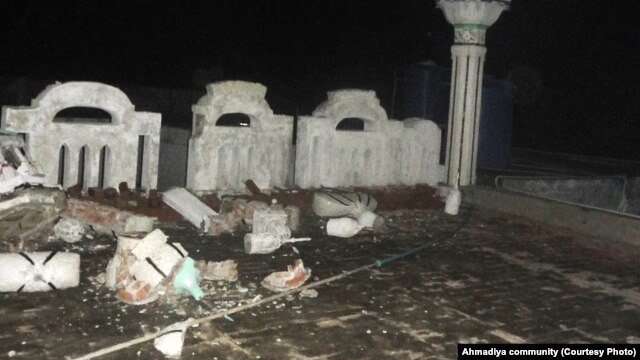 The U.S. State Department's report says, "Those wishing to be listed as Muslims on their national identity card, which is needed to vote, must swear their belief that the Prophet Muhammad is the final prophet and denounce the Ahmadi Muslim movement's founder as a false prophet and his followers as non-Muslim."
Ahmadis are only allowed to vote for parliamentary seats reserved for non-Muslims and, since they refuse to declare themselves non-Muslims, they do not vote.
"For Ahmadis, discrimination starts with birth and continues until death," says Mehmood. "It occurs not only in employment but even in educational institutions. A student is only a student and he does not preach anything. But Ahmadis are being expelled from educational institutions. Then they are being deprived of the right to live, which is the basic right of every human being. Then after death, it is the right of every individual to be buried with respect, but I think Ahmadis are not safe even in their graves after death in Pakistan."
Stark Choice
Mehmood maintains that Ahmadis have been particularly harassed by extremist religious groups. He claims such groups have issued fatwas, or religious edicts, calling for Ahmadis to be killed.
"There are both good and bad people in every society," he says. "But the tragedy is that the extremist elements, though small in number, have taken the whole Pakistani society hostage. They are spreading hate against Ahmadis in open conferences where they issue fatwas to kill Ahmadis. They ask for Pakistanis to boycott Ahmadis and thus Ahmadis cannot follow their faith or properly carry out other business related to their faith."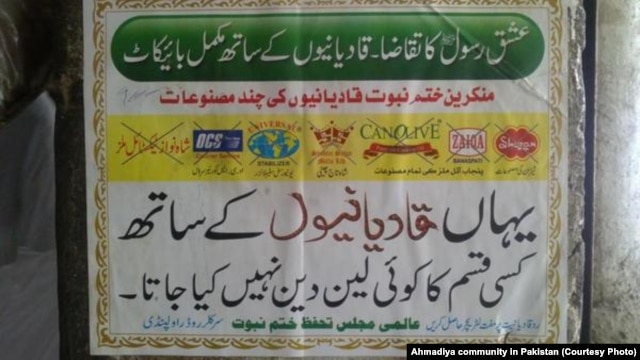 Even mainstream politicians have added to the marginalization of the group. On May 4 Imran Khan, the cricket star turned politician, said during a campaign rally that he did not regard Ahmadis as Muslims and would not campaign for their votes.
Mehmood suggests that Ahmadis face a stark choice in Pakistan. They can follow their faith and risk persecution and death or they can convert or leave the country. Thousands of Ahmadis from the subcontinent have left, with large communities now living in Britain and the United States.
"Of course, this is becoming a very common thing in Pakistani society," Mehmood says. "They are holding open conference and issuing threats that Ahmadis have one choice [to stop following their faith]. Then they issue statements in the Pakistani media saying Ahmadis have two choices: Either join other Muslims or leave Pakistan."
http://www.rferl.org/content/pakistan-ahmadis-persecution-violence/24992861.html