Tanveer Ahmed raises his fist and yells to supporters in court as he is led away to serve his sentence for the "barbaric" murder.
A taxi driver has been sentenced to life with a minimum term of 27 years for the murder of a Glasgow shopkeeper Asad Shah.
Tanveer Ahmed, 32, travelled from Yorkshire to confront Mr Shah about clips the shopkeeper had posted online which he said "disrespected the Prophet Muhammad".
Watching a clip featuring Mr Shah on his phone as he made his way to Glasgow, Ahmed was heard in a phone message saying: "Listen to this guy. Something needs to be done. It needs nipped in the bud."
He pulled out a knife and stabbed the 40-year-old, who he did not know, at his store in Glasgow's Shawlands area on 24 March.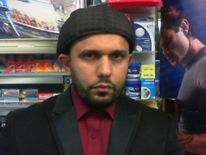 Ahmed, a father of three from Bradford, pleaded guilty to the murder last month.
Sentencing at the High Court in Glasgow, Judge Lady Rae said the killing was an "appalling display of merciless violence".
She said Ahmed had carried out a "brutal, barbaric, horrific crime", that was in effect an "execution", for which he had shown no remorse.
"You seem oblivious to the fact that you have devastated a family," Lady Rae told him.
She said she accepted that the crime was not the result of prejudice against the Ahmadiyya Muslim community but that it was religiously motivated.
James Matthews, Sky News' Scotland Correspondent, said: "Inside court, a section of the public gallery was filled by supporters of Tanveer Ahmed.
"As he was led away from the dock he faced them, raised his hand to the air, and shouted in Arabic.
"One told Sky News he said: 'Muhammad is the prophet, he is the only one'.
"They returned the sentiment, with a collective voice, as the killer was forced down stairs into the holding cells beneath court."
Mr Shah, described as "a pillar of the community", was a member of the Ahmadiyya community.
The court heard that Ahmadiyyas differ from other Muslims in their belief that the Prophet Muhammad was not the final Prophet.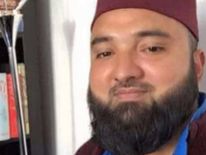 Mr Shah and his family had moved to Scotland from Pakistan in the 1990s to escape persecution.
His final Facebook update offered Easter greetings "to my beloved Christian nation".
A statement released on behalf of Mr Shah's family said: "Asad's family have lost a peaceful, kind and loving brother, son and uncle who can never be replaced.
"Most of his family have now left or are in the process of leaving Scotland, a country they came to seek safety in."
The murder shocked the close-knit community in south Glasgow, where several vigils were held in Mr Shah's memory.
An online fundraising page for his family raised more than £100,000.
Rafiq Hayat, of the Ahmadiyya Muslim Association UK, said: "Mr Shah's only crime was to spread a message of love and compassion and the whole city paid tribute to him for his kindness and care.
"No matter how brutal the crime and how evil the ideology, the people of Glasgow and the UK have made clear that we will not let hate prevail."
http://news.sky.com/story/shopkeeper-killer-given-life-for-execution-10528873